---
Volunteers Are at The Heart of the South West Peak
Posted on 20 January 2021
---
The following blog was written by Celia Muir, South West Peak Community Engagement and Grants Officer, and discusses the numerous and wonderful community works that have been funded through our Engaging Communities project. This will be a continuing series so remember to check back for chapter 2!
---
Launched in 2017, the South West Peak Landscape Partnership is a group of organisations working together and working with a vast number of volunteers to restore, protect, and improve the landscape of the South West Peak area.

With the Peak District National Park as lead partner and the support of the National Lottery Heritage Fund this 5-year partnership (with benefits reaching far beyond that time) works with local communities to build stronger connections with the landscape and with each other. The partnership is enhancing ecosystem services, the benefits we all get from the natural environment, and supporting sustainable farming in the area.

As one of the key partners, Support Staffordshire leads the 'Engaging Communities Project' (one of 18 projects which make up the Scheme) which, so far, through our outstanding volunteers who make up our Community Grants Panel, has reviewed 81 community grant applications, and approved 66 community grants awards for 66 different community projects all delivered by passionate and committed volunteers and community groups.
Over the coming months we will be highlighting and celebrating as many of these projects as we can.

In this first 'spotlight' we feature:

1.Peak in The Past: Illuminating the History and Folktale Traditions of the South West Peak
"The project centres on the creation of a filmed series of folktales relating to the South West Peak. Students from Buxton and Leek College contributed artistic representations of key dramatic scenes for each folktale to incorporate into the films to help bring the narratives to life. The films aim to highlight the richness and variety of the region's folktales in an accessible and strikingly visual way which will help to preserve and promote the folklore traditions of the locality as well as enhancing appreciate for the dramatic landscape in which such stories were forged."
All the films can be found under the heading 'Folktales' here.

2.The Bridgend Centre/Bollington Community Association: Heritage Trails and Tree Trails
There were 2 projects approved and 2 grants awarded here; 1 for Heritage Trails and 1 for Tree Trails. Both projects focussed on revitalising a series of walking trails. Working with a team of volunteers to walk the trails, checking they are up-to-date, redesigning the leaflets and maps and putting in place new and updated way markers, sculptures and installations.
All details of the walks can be found here.

3.Hartington Community Group: 'No Mustard At The Stores'-Village Life In Hartington 1933-1955
The objective of this project was to collate, edit, design, print and publish a book based on a diary kept by John Robert Sherratt born in Hartington in 1900 and who died there in 1977. Providing an evocative image of life for an ordinary working man in the South West Peak area in the mid-20th century, this book delivers an important record of a valuable document; very few diaries survive like this to posterity. The book (published in January 2019) supplements the diary entries with extensive back stories, memories and facts primarily provided by numerous residents of Hartington.
More information can be found here from the South West Peak news page
and here from the Hartington Village website.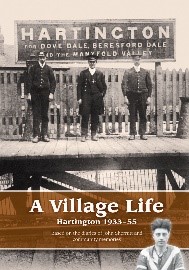 4.Beasley Back Dane: Back Dane Environmental Regeneration & Education Project
The Back Dane Trust is a small volunteer-run charity that owns a converted farmhouse, Back Dane, in the Peak District National Park. It is situated on the edge of Cheshire, Staffordshire and Derbyshire.
The Trust's purpose is to provide educational and recreational facilities for those in need, or those who are disadvantaged in some way. They welcome and support charitable groups wanting to host respite breaks, for example for inner city kids, refugees, young carers, children and adults with learning difficulties. This project, to install a nature trail, storytelling circle, wildflower meadow and sensory garden was approved and the grant awarded in 2019.
More information can be found here.