---
The Disappearing Troughs
Posted on 2 February 2021
---
Local groups and individuals have adopted a number of heritage assets across the South West Peak as part of the Small Heritage Adoption Project to ensure they are looked after for years to come. Some of these have involved big projects like the survey, excavation and consolidation of Dale Mine, but others just need a little TLC. Some are already being cared for without the need to be 'adopted' such as the 'disappearing troughs', which SWP Volunteer and Volunteer Ranger, Maggi Rowland has been looking after for many years alongside Volunteer Ranger Bob Daniels. Here she talks about the troughs, why they look after them and their significance. It also shows what adoption of a heritage asset in the SWP might entail, such as a regular visit to make sure all is in order.

- Dr. Catherine Parker Heath (SWP Cultural Heritage Officer)
---
Volunteer Rangers have many, varied duties, but one of my favourite tasks is Stone trough cleaning - a regular duty every November for me and my colleague Bob.
An elderly lady contacted the National Park authority about ten years ago, asking if they knew what had happened to a stone trough she was familiar with since childhood. It was on the road near Roche Grange, and as a young person growing up in Meerbrook, she remembers driving around the area in a horse and trap. The horse would always stop for a drink at the trough at the junction. Revisiting the area, she was disappointed that she had been unable to find the trough. Two volunteer Rangers were despatched to find it: after a search they eventually found it, buried under years of brambles, bracken and gorse, the signpost nearby in a similar condition. The spring which fed the trough had backed up in the adjoining field, and, once the stone channel was unblocked, the water gushed forth in a torrent. Clearing the dense undergrowth revealed that the channel leads into the stone basin by the roadside, overflow water then spills into a channel under the road. Since its rediscovery, my colleague Bob and I have cleared out this trough every year, usually in November when the vegetation has died back. In an area busy with visitors, many people stop and admire the trough.
Stone roadside troughs are now a rare feature of the rural landscape, having lost their function of hundreds of years of watering horses or livestock on the way to market. They can now more commonly be seen as attractive planters in gardens, water features, or even wine coolers for summer barbecues! They are found on packhorse routes and drovers' roads, on cart tracks and routes to the local market.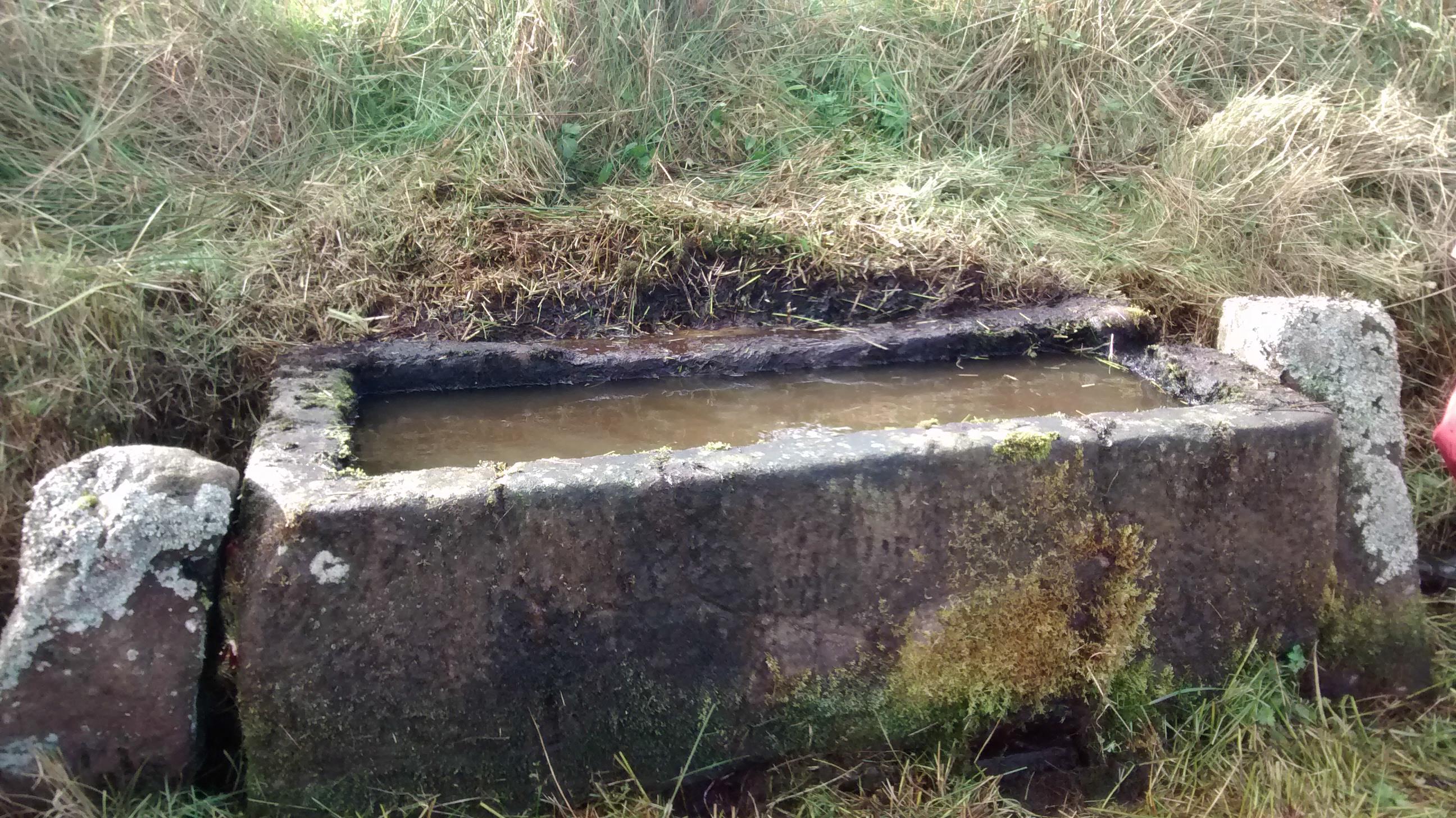 The second trough is on a quiet minor road on Morridge, a lonely location overlooking Middle Hills. It's a large rectangular trough, hewn from one piece of stone. It is filled by water seeping in from the bank behind. One time when we were cleaning the trough, a local farmer stopped, stuck his head out of the truck window, and said. "Are you trying to pinch it? You won't be the first!" Apparently an attempt had been made to remove the trough, but fortunately it is still in its original position. We assured the farmer of our honourable intentions! It is interesting to wonder why the trough is in this isolated location, just off the main Morridge ridgeway. It could be a route that links the Manifold valley to Congleton and beyond; it could be on a route that farmers used to take stock to market. It could even be on the route used to take coal from the Goldsitch mines to the Ecton copper mines in the 1870s.
After a morning spent hacking undergrowth and shoveling silt, we have a great sense of satisfaction to see our troughs revealed again for all passers-by to appreciate. They represent a little piece of history, a tangible reminder of the days when the roads were ruled by animal-power. We hope that you will visit them and appreciate them too when you are in the area. We hope they will continue to be a feature of the landscape for many more years to come.
Trough above Roche Grange: SK 9949 6360, look for the signpost.
Trough on Morridge/Middle Hills: SK 0375 6258, set into a slight lay-by.
- Maggi Rowland
---
If you are interested in adopting a heritage asset yourself or becoming part of a group of volunteers that can look after a range of heritage assets, contact SWP Cultural Heritage Officer Catherine Parker Heath for more information by clicking here.