---
The Land That Made Us: Bonus Audio Content
Posted on 14 January 2021
---
The Land That Made Us: The Peak District Farmer's Story book is about farming history. Edited by Peak District writers and photographers Christine Gregory and Sheila Hine, it tells the tale of 80 years of farming in the South West Peak.
Sheila and Christine collected stories told by local farmers and land managers who have lived and worked in this landscape for generations. The book includes tales of labouring in harsh winter weather in difficult terrain as well as memories of close communities where neighbours looked out for one another. People recount the challenges of working with changes in farming policies, the transition to new technologies, and speculate what the future may hold for their way of life in the South West Peak.
The book was launched in the South West Peak in October 2019, to an audience of 120 people, at Heaton House Farm, Rushton Spencer. Keynote speakers were journalist and Landscape Review lead Julian Glover; biologist and co-founder of the College for Real Farming and Food Culture, Colin Tudge; and Peak District dairy farmer and Nuffield scholar Robert Thornhill. You can listen to a recording of the event below:
In the links below, you can hear some of the people interviewed for the book talking about their lives in the South West Peak. Thanks to volunteer Paul Andrews for creating the audio files for everyone to enjoy. Hearing it straight from the people who have lived through some extraordinary times in a beautiful and challenging environment really gives you an authentic sense of what the South West Peak is all about.
Enjoy the audio files and read the companion written transcripts. To listen to the audio, just click the links below to download them or play them through your browser.
The Land That Made Us: The Peak District Farmer's Story book can be purchased at these retailers:
Peak District National Park Online Shop
---
Disclaimer: Please keep in mind that these audio files and written transcripts are oral history interviews with a wide variety of different people and that the views expressed by the interviewers and the subjects are not necessarily the views of the South West Peak Landscape Partnership.
---
Karen Ballington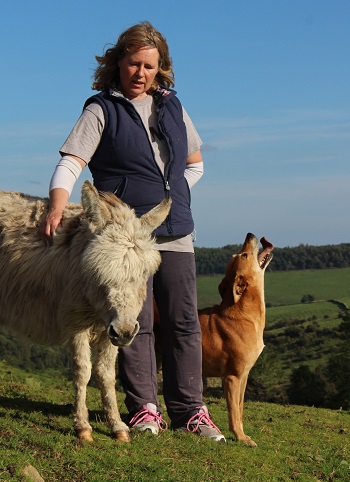 Karen Ballington and Roy Critchlow farm at Heathylee House Farm, near Hollinsclough. It is a 200 acre hill farm, at 1200 to 1500 feet above sea level. They have a menagerie of animals that include miniature donkeys, guanaco (the wild ancestor of llamas), and rare breeds of cattle, goats and pigs. Roy has farmed in the area all his life, while Karen previously worked in the army as a telecoms engineer.
Interview Date: 2017
Karen Ballington mp3 Part 1 - Diversification (32:12)
Karen Ballington mp3 Part 2 - Conservation (7:22)
Karen Ballington Transcript Part 1 - Diversification
Karen Ballington Transcript Part 2 - Conservation
---
Kath Belfield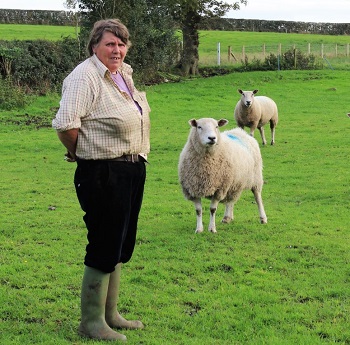 Kath was born in 1958 and now lives on a smallholding near Leek. Over the years she has worked in factories, as a coffin maker, at a slaughterhouse and knacker's yard. She even ran her own kennel business, but farming remained her passion and she was born to it.
Interview Date: 2017
Kath Belfield Part 1 - early years mp3 (24:24)
Kath Belfield Part 2 - farming mp3 (37:11)
Kath Belfield Part 3 - kennels mp3 (12:48)
Kath Belfield Part 4 - Farmers for action mp3 (13:59)
Kath Belfield Part 5 - childhood memories mp3 (18:18)
Kath Belfield Transcript Part 1
Kath Belfield Transcript Part 2
Kath Belfield Transcript Part 3
Kath Belfield Transcript Part 4
Kath Belfield Transcript Part 5
---
Bill Brocklehurst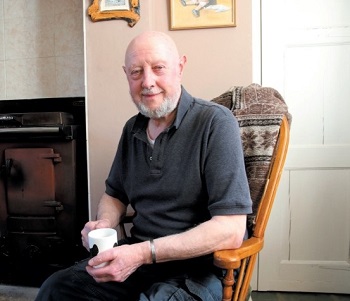 Bill was born in 1943. His grandfather was farm bailiff at a farm near Buxton, and later the family had the grazing rights on 5,300 acres of high moorland around the Cat and Fiddle. Bill Brocklehurst knows the moors of the South West Peak in ways that few people can ever know a landscape. Bill became Peak District National Park warden on the Roaches in 1999 before he retired in 2013, but for most of his life he was first and foremost a shepherd.
Interview date: tbc
Bill Brocklehurst Part 1 - family mp3 (21:58)
Bill Brocklehurst Part 2 - shepherding mp3 (20:29)
Bill Brocklehurst Part 3 - winter mp3 (8:21)
Bill Brocklehurst Part 4 - changes mp3 (23:29)
Bill Brocklehurst Part 5 - Fernilee reservoir mp3 (5:13)
Bill Brocklehurst Transcript Part 1
Bill Brocklehurst Transcript Part 2
Bill Brocklehurst Transcript Part 3
Bill Brocklehurst Transcript Part 4
Bill Brocklehurst Transcript Part 5
---
David Bullock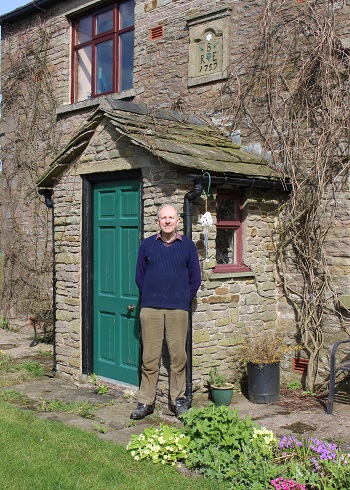 After taking early retirement from the NHS, where he worked in finance, David decided to take up farming and moved to Cophurst farm, Sutton. Here, on this small holding, he started out farming cattle, but now he rents the land out and manages the land for conservation inline with the Higher Level Stewardship scheme that he entered in 2007.
Interview Date: 2015
David Bullock mp3 (24:39)
David Bullock Transcript
---
Hilda Critchlow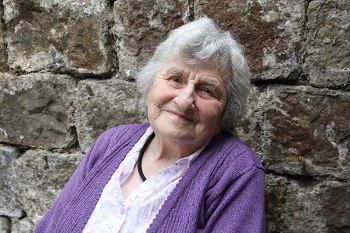 Hilda was born in 1928 and worked for most of her life on the family's dairy farm, Sheldon House Farm, Brund
Interview Date: 2015
Hilda Critchlow mp3 Part 1 - Dairy Farming (27:10)
Hilda Critchlow mp3 Part 2 - Driving (4:50)
Hilda Critchlow Transcript Part 1 - Dairy Farming
Hilda Critchlow Transcript Part 2 - Driving
---
Alan Dickinson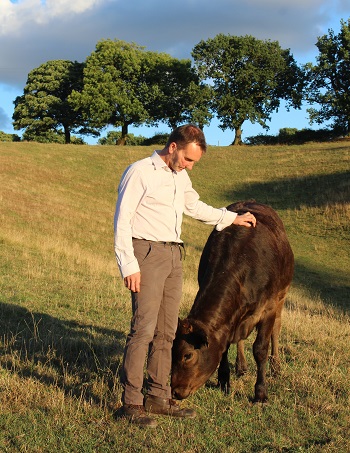 Alan works for the National Farmers' Union as the Group Secretary covering the Staffordshire Moorlands and is based in the local office in Leek. He comes from a farming family in Northumberland and used to shear sheep for a living. He owns a small farm of twenty-five acres, renting a further thirty acres at Rushton Spencer, four miles north of Leek.
Interview Date: tbc
Alan Dickinson mp3 Part 1 - Dairy Farming (16:38)
Alan Dickinson mp3 Part 2 - Intensification (19:29)
Alan Dickinson mp3 Part 3 - Subsidies (11:28)
Alan Dickinson mp3 Part 4 - Town and Country (9:24)
Alan Dickinson Transcript Part 1 - Dairy Farming
Alan Dickinson Transcript Part 2 - Intensification
Alan Dickinson Transcript Part 3 - Subsidies
Alan Dickinson Transcript Part 4 - Town and Country
---
David Fryer
David Fryer was born into a non-farming family and raised in the countryside at Strines, near Marple. He started his career as a farmer at the age of nineteen when he bought a small farm on Anglesey and farmed there for a short period. Returning to the family home in Strines, he eventually bought a farm near Longnor and built up a large dairy herd. David now lives on the farm with his daughter, Heather, and her family.
Interview Date: tbc
David Fryer mp3 (10:24)
David Fryer Transcript
---
Heather Fryer-Winder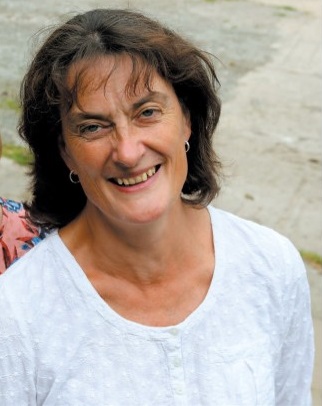 The ancient farmhouse at Boosley Grange is split in two and the little girl next door to Denise Jarman and her family was Heather Fryer-Winder. Heather lived alone with her father David Fryer for twenty years, after her mother left, when she was just five years old. She left the farm in her twenties for a spell in Germany, but returned to Boosley Grange where she now lives with her husband, two children and father David, who once had a large dairy herd. Most of the fields are now let for grazing. Heather remembers a tough and lonely life on the farm in which support from the girls next door was vital to her.
Interview Date: tbc
Heather Fryer-Winder mp3 (10:42)
Heather Fryer-Winder Transcript
---
Harry Gee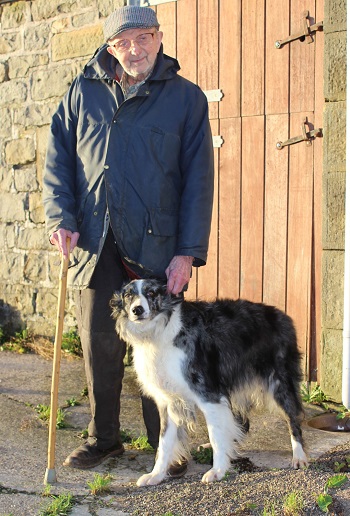 Harry Gee was born in 1923 at The Hayes, Reapsmoor. His family moved to Ridge Farm, Longnor where he remained for the rest of his life until he passed away in January 2018. In this interview with Sheila Hine in June 2015, Harry describes some of the changes that occurred in farming over his lifetime.vital to her.
Interview Date: 2015
Harry Gee mp3 Part 1 - Farming (25:27)
Harry Gee mp3 Part 2 - Winter of 1947 (8:24)
Harry Gee Transcript Part 1 - Farming
Harry Gee Transcript Part 2 - Winter of 1947
---
Helen Heathcote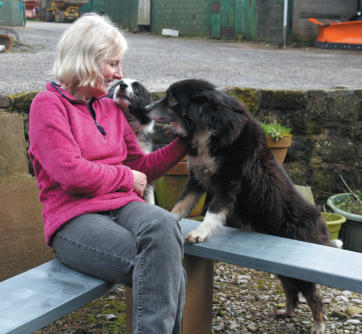 Helen was born in the 1950s and her family farmed at Pyegreave Farm, in Cheshire. She was the last farmer in her extended family and until recently, kept beef stock on the smallholding at Bottom House, in Staffordshire. Helen remembers how her parents' farm business kept going for decades with a high degree of self-sufficiency and no subsidies. In addition to sustaining the family, her parents' milk round helped sustain the local community by providing social support as well as the daily milk delivery.
Interview Date: tbc
Helen Heathcote mp3 Part 1 - Previous generations (20:30)
Helen Heathcote mp3 Part 2 - Helen's generation (11:54)
Helen Heathcote mp3 Part 3 - Agricultural changes (13:39)
Helen Heathcote Transcript Part 1 - Previous generations
Helen Heathcote Transcript Part 2 - Helen's generation
Helen Heathcote Transcript Part 3 - Agricultural changes
---
Denise Jarman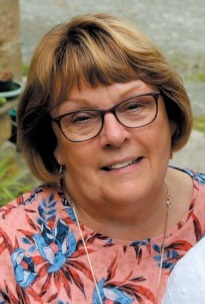 Denise Jarman was born in 1952 and grew up on Boosley Grange Farm, near Longnor. She remembers life on the family farm up until the great changes of the 1980s and 1990s. She often revisits the farm, where most of the fields are now rented out to a large-scale dairy producer.
Interview date: tbc
Denise Jarman Part 1 - childhood.mp3 (19:49)
Denise Jarman Part 2 - conservation.mp3 (7:39)
Denise Jarman Transcript Part 1
Denise Jarman Transcript Part 2
---
David and Colin Pickford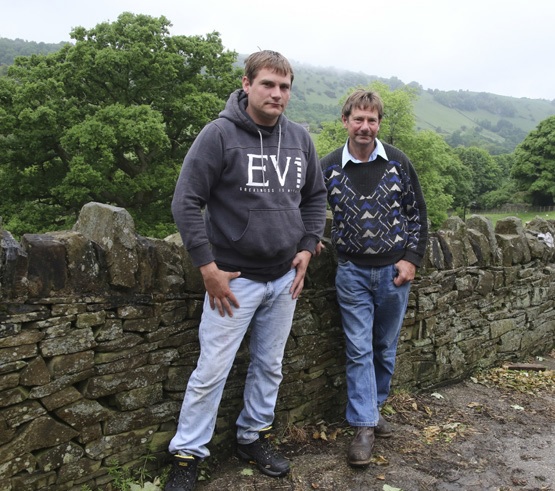 Colin and his son David farm at Rainow near Macclesfield where Colin took over from his father. Their family has farmed in the area over many generations.
Interview Date: 2017
Colin and David Part 1.mp3 (19:44)
Colin and David Part 2.mp3 (18:10)
Colin and David Pickford Transcript
---
Neil Richardson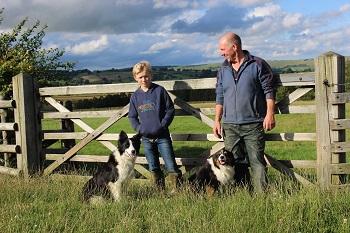 Neil has spent over thirty years farming at Big Fernyford Farm, Reapsmoor, between Longnor and Warslow. From 1968, Big Fernyford was farmed by Sylvia and Michael Woolley, who also contributed to this project. Neil is a former champion sheep shearer and with his partner Dorota and youngest son is now a specialist sheep breeder. Neil spoke with Sheila Hines in May 2017 about his farming activities and the environmental work that he does on the farm, which is jointly owned by Natural England and the Peak District National Park.
Interview Date: 2017
Neil Richardson Part 1 - farm mp3 (21:14)
Neil Richardson Part 2 - environment mp3 (13:09)
Neil Richardson Transcript Part 1
Neil Richardson Transcript Part 2
---
Adrian Rochford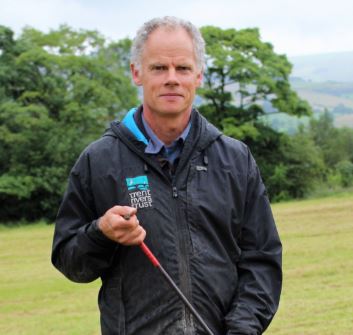 Adrian used to work for Natural England as an adviser on the Higher Level Stewardship Scheme. He now works part-time for Trent Rivers Trust as Tittesworth Catchment Adviser. In both of these roles Adrian developed a strong collaborative approach in his work with farmers.
Interview Date: 2015
Adrian Rochford.mp3 (15:43)
Adrian Rochford Transcript
---
Arthur Slack
Arthur Slack was born in 1931 at Reddish Farm in Whaley Bridge. He worked for Mr Lomas at Shallcross Farm near Taxal in his youth before moving back to work on his father's farm and then starting out on his own at Glebe Farm and then moving on to Overton Farm. Arthur is the father of Peter Slack and grandfather of Matthew and Sam Slack who also contributed to this oral history of farming in the South West Peak. Arthur died in September 2018.
Interview Date: 2017
Arthur Slack Part 1 growing up.mp3 (11:26)
Arthur Slack Part 2 working for Mr Lomas.mp3 (20:38)
Arthur Slack Part 3 being your own boss mp3 (28:33)
Arthur Slack Transcript Part 1
Arthur Slack Transcript Part 2
Arthur Slack Transcript Part 3
---
Peter Slack
Peter is the son of Arthur Slack. Peter farms with his wife Sylvia (pictured below) and two sons Sam and Matthew (featured below) at Overton Farm at Taxal above the Goyt Valley. As well as farming, he makes a supplementary living as an after-dinner speaker.
Interview Date: 2017
Peter Slack.mp3 (8:41)
Peter Slack Transcript
---
Sam and Matthew Slack
Sam and Matthew Slack are the sons of Peter Slack, and grandsons of Arthur Slack. Matthew and his brother Sam farm with their parents, Peter and Sylvia, at Overton Farm at Taxal above the Goyt Valley.
Interview Date: 2017
Sam Slack.mp3 (2:48)
Matthew Slack.mp3 (7:19)
Sam Slack Transcript
Matthew Slack Transcript
---
John and Janet Stone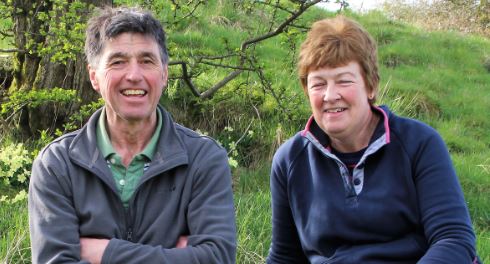 John and Janet Stone farm at Onecote Grange Farm. They have a large dairy herd and some ground in Higher Level Stewardship. Their son, Andrew Stone (below), has also contributed to this oral history of the South West Peak.
Interview Date: 2017
John and Janet Stone Part 1 Dairy farming.mp3 (18:06)
John and Janet Stone Part 2 Conservation.mp3 (11:05)
John and Janet Stone Part 3 The future.mp3 (4:52)
John and Janet Stone Part 1 Transcript
John and Janet Stone Part 2 Transcript
John and Janet Stone Part 3 Transcript
---
Andrew Stone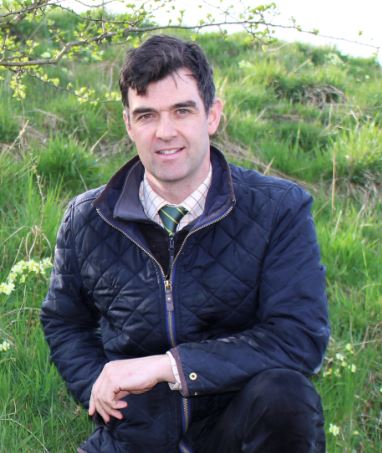 Andrew Stone grew up on Onecote Grange Farm, the dairy farm run by his parents, John and Janet Stone, who also contributed to this oral history of farming in the South West Peak.
Interview Date: 2017
Andrew Stone.mp3 (4:39)
Andrew Stone Transcript
---
Emma Trueman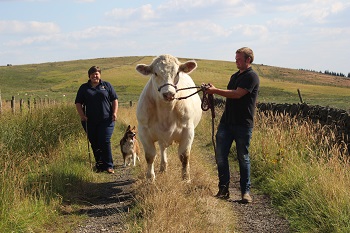 Emma bought Roundhill Farm high up on Morridge near Flash in 2010. With the help of her brother, she farms 45 acres at 1,500 feet at Morridge and another 45 acres at Thorncliffe. She also has two jobs in Leek. Sheila Hine spoke with her in November 2017 about her farming activities at this high altitude.
Interview Date: 2017
Emma Trueman Part 1 - farming mp3 (10:58)
Emma Trueman Part 2 - TB testing mp3 (10:35)
Emma Trueman Transcript Part 1
Emma Trueman Transcript Part 2
---
Geoff and Margaret Tunnicliffe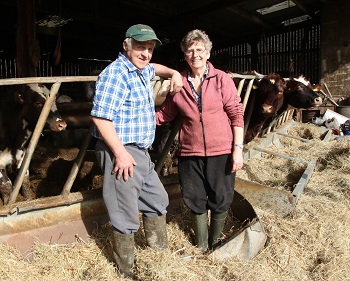 Geoff and Margaret Tunnicliffe farm together with their son Andrew on Manor Farm in the Dane Valley. They also keep stock on the Roaches by agreement with Staffordshire Wildlife Trust, in addition to the stock kept at Manor Farm.
Interview Date: tbc
Geoff Tunnicliffe Part 1 - family mp3 (23:26)
Geoff Tunnicliffe Part 2 - cattle mp3 (3:50)
Geoff Tunnicliffe Part 3 - schemes mp3 (20:13)
Geoff Tunnicliffe Part 4 - Margaret mp3 (4:52)
Geoff Tunnicliffe Transcript Part 1
Geoff Tunnicliffe Transcript Part 2
Geoff Tunnicliffe Transcript Part 3
Geoff Tunnicliffe Transcript Part 4
---
Andrew Turnock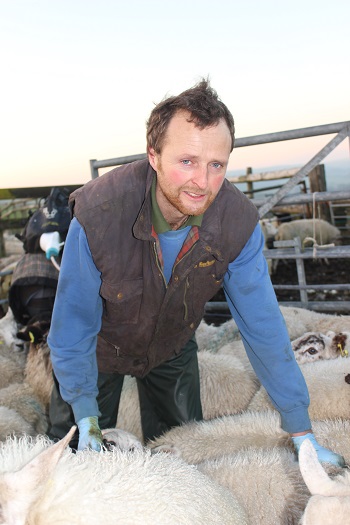 Andrew works with his parents and brother on a substantial and very modern family farm, near Onecote. He mainly works with the animals on the farm, but also helps his brother Carl with the agricultural contracting side of the family business.
Interview Date: 2017
Andrew Turnock mp3 (9:26)
Andrew Turnock Transcript
---
Graham Turnock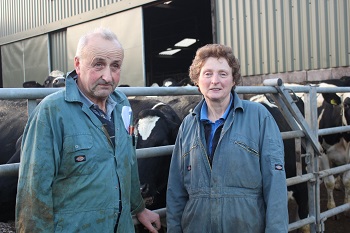 Graham has spent his life farming at Dun Lea Farm, near Onecote. He and his brother David joined the family business when they left school. His lifetime of farming reflects the general drive to expand and intensify, thereby increasing inputs and yields. Graham is pictured with his wife, Carol Turnock.
Interview Date: 2017
Graham Turnock mp3 (24:09)
Graham Turnock Transcript
---
Brian Wainwright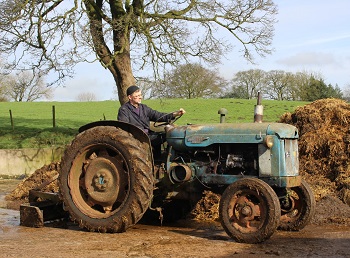 Brian farms at Parkhouse Farm, Meerbrook. The farm has been handed down through the generations from his great grandfather onwards. He has seen the changes in dairy farming over his lifetime.
Interview Date: 2017
Brian Wainwright Part 1 - dairy farming mp3 (15:49)
Brian Wainwright Part 2 - schemes mp3 (6:48)
Brian Wainwright Transcript Part 1
Brian Wainwright Transcript Part 2
---
Claire Wolstencroft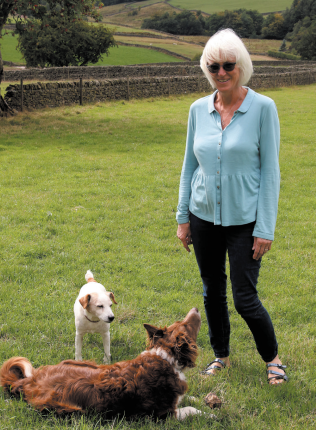 Claire and her husband Graham moved into Lane Head Farm, near Longnor, in 2006. They farmed their smallholding under Higher Level Stewardship, an agreement which ended in 2019. As part of this agreement Claire has worked with parties of schoolchildren helping them to build a connection to and understanding of the countryside.
Interview Date: 2015
Claire Wolstencroft Part 1 - smallholder mp3 (18:37)
Claire Wolstencroft Part 2 - Higher Level Stewardship mp3 (13:58)
Claire Wolstencroft Part 3 - Nitrate Vulnerable Zone mp3 (8:17)
Claire Wolstencroft Part 4 - housing mp3 (3:56)
Claire Wolstencroft Part 5 - 2018 mp3 (15:37)
Claire Wolstencroft Transcript Part 1
Claire Wolstencroft Transcript Part 2
Claire Wolstencroft Transcript Part 3
Claire Wolstencroft Transcript Part 4
Claire Wolstencroft Transcript Part 5
---