---
Engaging Communities October Spotlight
23 October 2021
---
South West Peak October Spotlight
Landscape Partnership Inspires and Enables Children and Young People to Benefit from Being Outdoors in the South West Peak
In this tenth 'spotlight' we feature 4 fantastic projects delivered by 3 fantastic charities:
YMCA North Staffordshire: Go Explore

Reaching on average 500 young people per week, YMCA North Staffordshire believe in providing children and young people with the opportunities and experiences that can positively transform their lives.

Understanding the physical and psychological benefits of being outdoors the YMCA team wanted to use the grant funding to visit key locations within the South West Peak area to inspire action and bring about change.

They applied for and received 2 grant awards for 2 projects which would (a) help deliver a part of their 'YMCA Go' youth work programme for under 16's and (b) reach over 16's who are accommodated at their award- winning youth campus.

The projects have included team building and bushcraft, map reading and nature exploration, outdoor adventure activities such as raft building, kayaking and paddle boarding. Artistic outdoor activities such as walks at Lud's Church, The Roaches and Macclesfield Forest which have further inspired creativity through photography and an art session at the Fox Lowe Centre in Leek. Cultural and creative days at galleries and gardens such as The Green Man Gallery and Buxton Pavillion Gardens,

"The activities have helped to increase overall engagement in activities at the YMCA, as getting out into the countryside is something that our young people love. They have been able to socialize with one another and members of the public, and gain skills for life. The young people also say that going on the walks has had a positive impact on their mental health." Nicky Twemlow, Community Manager

To find out more about the YMCA North Staffordshire go here: Home - YMCA North Staffordshire

Cre8 Macclesfield: Cre8 Action Outside

Cre8 Macclesfield is a grass roots organisation empowering people on the Moss Rose estate community of Macclesfield by supporting them to initiate change for themselves.

Their project 'Cre8 Action Outside' focussed on taking groups of young people out of their everyday lives to learn and contribute to their skills in a rural environment.

An extensive programme of activities included rock climbing, scrambling, archery, bush craft, orienteering, paddle-boarding and kayaking. These activities allowed the young people to develop a range of skills including map reading, team work, problem solving, confidence, perseverance, resilience and many more.

For more information about Cre8 Macclesfield go here: Cre8 - Home

The Thomas Theyer Foundation: Outdoor Activities for Young People with Additional Needs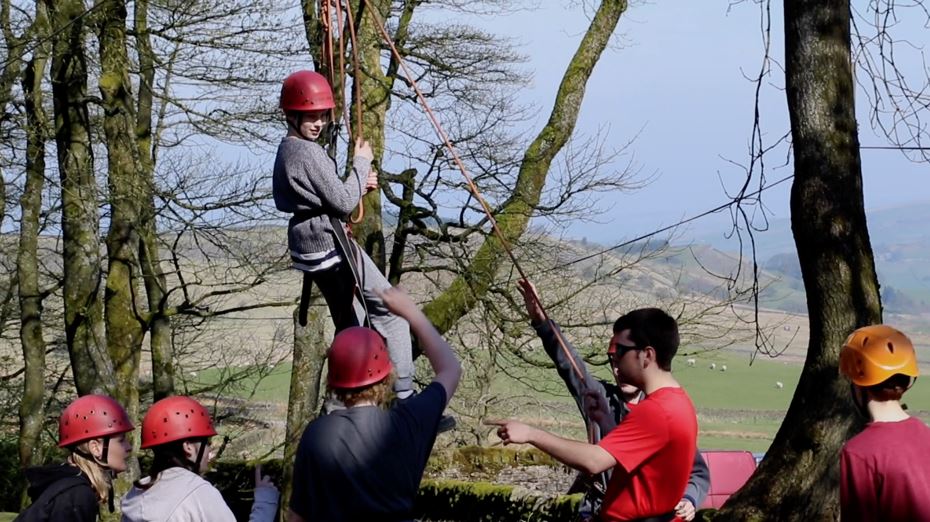 The overall goal of The Thomas Theyer Foundation is to provide support for young people with special educational needs or difficult life circumstances through access to outdoor activities and respite breaks.
Their project offered a range of core activities including zip wires, high and low rope courses, team building activities, problem solving initiatives, indoor wall climbing, mountain biking and orienteering. In addition, participants were able to develop their communication skills by engaging with each other and supporting one another to achieve goals and overcome challenging situations including their own fear.
Feedback from participants and staff and volunteers included:
"The zip-wire was the best part because I've never done it before. I felt amazing"
"I found the second rope course quite challenging but it meant I tried harder and, in the end, I did all of it"
"The children were able to try new activities that they otherwise wouldn't get to"
"Confidence was boosted"
"the cargo net included teamwork because the people who weren't climbing had to pull the rope connected to the climber. And one person couldn't do it on their own"
'This is the best day of my life – I'll remember it for ever – Thank you!!'
"What a day! It was cold but this didn't stop the smiles on the children's faces! They all had a fantastic experience, which encouraged resilience, increased confidence and independence."
To find out more about The Thomas Theyer Foundation go here: The Thomas Theyer Foundation
To learn more about the South West Peak Landscape Partnership visit: