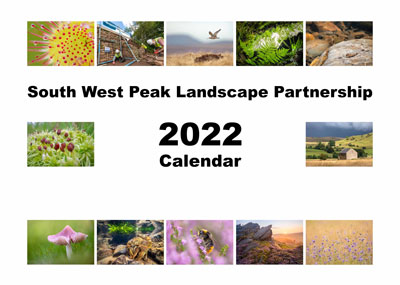 2022 South West Peak calendar is now available!
Over the last five years the Partnership, local communities and volunteers have been working tirelessly to record and protect some of the most distinctive and important features of the South West Peak landscape. Now you can hang them on your wall!
Working with award-winning local photographer Alex Hyde, we have captured some stunning images of the species, habitats and heritage which are distinctive of this part of the Peak District. This limited edition (only 300 copies available) full colour, sustainably printed calendar features 12 unique specially commissioned photographs, many using Alex's trademark macro-photography to get right up close to the action.
The calendar is being sold by the Peak District National Park Foundation with proceeds going towards future projects in the South West Peak. It costs just £10.00 with free postage and packaging. To order your copy follow this link: https://peakdistrict.enthuse.com/swp-calendar
Calendars will be posted out second class on Thursdays, the last date for Christmas posting is 16 December, so final Christmas orders by Wednesday 15 December. Orders received after this date will be posted out in the New Year.