From our friends at White Peak Farmers: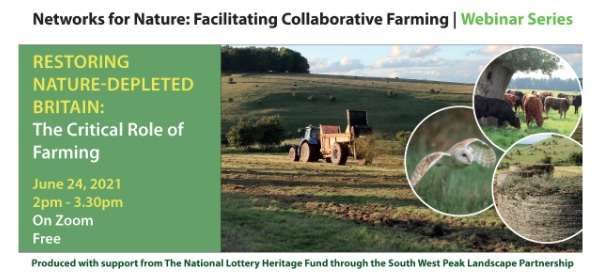 In this webinar, we look at the vital role that farming can play in nature's recovery in two diverse farmscapes. Ivan de Klee talks about different approaches to landscape connectivity within his role at both the Knepp estate and Facilitator for the Upper Adur Farmers Group. Rebekah Newman discusses farming with nature on intensive farms within the protected landscape of the Peak District National Park.
Our presentations:

Landscape Connectivity - clusters, corridors and the Knepp regen farm
Ivan de Klee, Farm Group Facilitator, Wilding Consultant and Natural Capital coordinator
Ivan will be presenting on how Knepp have approached the question of connectivity, both on the estate and across the region. Knepp have recently started a new regenerative farming project and thinking about corridors and connectivity was key in the decision making on that project. Knepp are also involved in a landscape scale corridor for wildlife, from Knepp down to the sea at Climping.
What does this actually mean though and how will it work? Ivan will attempt to unpack the concept and the potential funding mechanisms. Ivan will also talk about the Upper Adur farmers group, for which he is facilitator, how it is different to the corridor and what the groups aims and priorities are.
---
White Peak Trials: Exploring the options for nature recovery in an intensively managed pastoral landscape
Rebekah Newman, Peak District National Park Authority
Rebekah's presentation will cover:
Challenges for Nature Recovery in the White Peak
Opportunity mapping
The partnership approach with farmers and land managers
Better – creating structural diversity
Bigger – targeted creation of 'wildlife pastures' adjacent to high quality sites
Joined up – herbal leys and silage margins
Income forgone calculations, funding opportunities and challenges
Farming in protected landscapes
After the presentations, there will be an opportunity to put your questions to our speakers.
---
About our speakers:
Ivan de Klee
Ivan first worked at Knepp in 2015 on the farm as a stock assistant and labourer whilst he was on an off-season from conservation work overseas; since then Ivan worked in South Sudan for Fauna and Flora International (FFI) and on Borana conservancy in Kenya. Despite loving the adventure of international wildlife conservation, having grown up on farm - home was calling and having stayed in touch he returned to Knepp. Ivan now heads up rewilding and natural capital opportunities at Knepp, offers rewilding consultancy and is leading on the landscape corridor. Aside from his work at Knepp he is the facilitator of the Upper Adur Farmers group – a cluster of farmers in the Low Weald who are exploring more regenerative and wildlife friendly farming systems and concepts.
Rebekah Newman
Rebekah has worked on targeted nature conservation projects in the Peak District for 30 years, focusing mainly on grasslands, but not exclusively. She has worked for Sheffield and Derbyshire Wildlife Trusts and Natural England, and consequently has experience of how different organisations approach and deliver conservation. She will be representing the Peak District National Park Association (PDNPA) in this webinar.
---
Watch the last webinar by clicking below:
Check out the full recording of 'Rewarding land use change: payments for carbon, soil and biodiversity' on YouTube.